Get Your Next Vehicle Online with Perry Express
At Perry Ford, we think that purchasing or leasing your next car should be a straightforward process. Rather than spending hours at a dealership signing endless papers, we offer an easy solution - Perry Express. When you shop online at Perry Ford, you can get your new or pre-owned vehicle in just five easy steps. Read below to get started!
1. Choose Your Vehicle
Browse our inventory to find what you need! We have a wide variety of new Ford SUVs, pickup trucks, and sedans that we think National City drivers are going to love. We also have several pre-owned Ford vehicles and used vehicles from other manufacturers.
2. Personalize Your Payment
At Perry Ford, we have an easy way to calculate your payment. When you have your desired vehicle, you can easily assess your credit, determine the length of your loan or lease, and customize your down payment.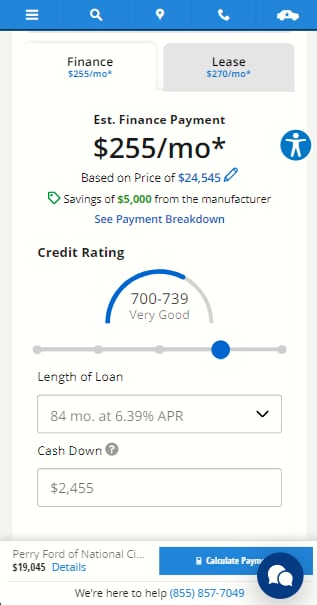 3. Calculate Your Kelley Blue Book® Trade-In Value
Got another vehicle that you want to replace? There's no use letting your old car sit around and collect dust; bring it to Perry Ford! When you calculate your Kelley Blue Book® Trade-In Value online, you can get a great deal on your next Ford. When you've calculated the value of your trade-in vehicle and it is confirmed at our dealership, you can use that amount toward the down payment of your new Ford.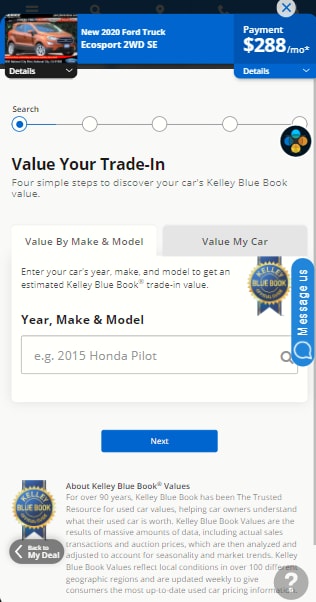 4. Apply for Financing
Yes, you can even apply for financing when you shop online with Perry Ford! When you apply for credit with us to secure pre-approval for financing, we will keep all your data secure as we find a reputable vendor in the area.
5. Finalize Your Purchase
Ready to commit to the drive of a lifetime? Once you've completed all the steps above, it's time to review the information you've provided to make any last-minute changes. Before you do, we recommend that you schedule a test drive to ensure that this vehicle is the right one for you. When you're ready, you can complete the final paperwork with everything else already done beforehand - just sign and head back home with a  smile on your face.